Indian Cuisine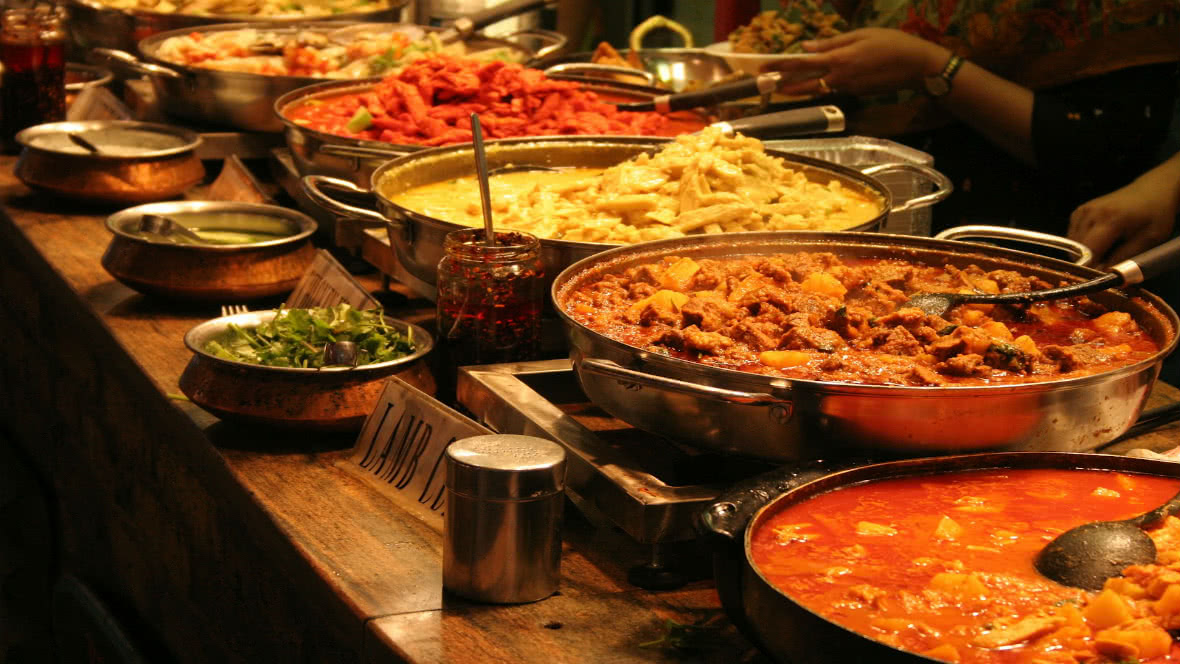 In India there is a huge range of diversity in soil type, climate, culture, ethnic group and occupations. Because of this, these cuisines vary significantly from each other and use locally available spices, herbs, vegetables and fruits. Indian food is heavily influenced by religious and cultural choices and traditions.The development of these cuisines has been shaped by religious beliefs, and in particular by exclusion of pork, exclusion of beef and vegetarianism, which continues to grow as a dietary trend in Indian society.
Popular Indian Dishes:
Biryani--An aromatic rice dish cooked with several spices, notably saffron, and a protein (typically chicken or mutton) that's been marinated.

Momos--A variation on the traditional dimsum, native to the North Eastern states that border Nepal (where the dish originated), eaten with a fiery red chutney.

Idli--A heavy South Indian breakfast food. A fermented batter of ground rice and lentils, steamed in little circular moulds.

Gulab Jaamun--Small balls of dried milk, slow cooked and boiled in a sugar syrup.

Chole Bhature--A spiced, curried chickpea dish served with a fried flour bread.

Kati roll--A traditional street food popular across India (and abroad). A wrap of kebabs, eggs, vegetables, and spices rolled into paratha (a type of flat bread).

Tandoori chicken--Chicken marinated for hours in a paste of yogurt and spices, and then roasted (traditionally) in a clay oven called a tandoor.

Commonly Used Indian Spices
Cardamom-- a fragrant, flavorful spice; cardamom is used in Indian meat, vegetables, chai, and sweet dishes throughout the country's diverse cuisine.

Chilies-- used in a variety of curries in Indian cooking to add flavor and heat to vegetarian and meat dishes.

Cilantro--Used in curries and rice dishes, cilantro is a versatile ingredient that adds an earthy, fragrant punch to dishes.

Cinnamon--Often used to flavor chai and desserts, cinnamon is a pungent ingredient that can transform any dish into something savory and fragrant.

Cloves--With a rich, fragrant flavor, cloves are a wonderful addition to meat, vegetable, and rice dishes.

Curry Leaves--Used as a seasoning in Indian cooking, curry leaves add unparalleled freshness to any dish

Tamarind --Popular throughout India, tamarind is used in meats, pastes, and chutneys. Tamarind is a natural meat tenderizer, so add it to your favorite meat marinade for a tart twist of flavor.

Tumeric --Known for its anti-inflammatory properties, turmeric is popularly used in Indian curries and chutney. The pungent flavor and bright yellow-orange color makes it a powerful addition to any meal.

Indian Recipes
Chicken Makhani (Indian Butter Chicken) Recipe
Ingredients:

1 tablespoon peanut oil
1 shallot, finely chopped
1/4 white onion, chopped
2 tablespoons butter
2 teaspoons lemon juice
1 tablespoon ginger garlic paste
1 teaspoon garam masala
1 teaspoon chili powder
1 teaspoon ground cumin
1 bay leaf
1/4 cup plain yogurt
1 cup half-and-half
1 cup tomato puree
1/4 teaspoon cayenne pepper, or to taste
1 pinch salt
1 pinch black pepper
1 tablespoon peanut oil
1 pound boneless, skinless chicken thighs, cut into bite-size pieces
1 teaspoon garam masala
1 pinch cayenne pepper
1 tablespoon cornstarch
1/4 cup water


Directions:
Heat 1 tablespoon oil in a large saucepan over medium high heat. Saute shallot and onion until soft and translucent. Stir in butter, lemon juice, ginger-garlic paste, 1 teaspoon garam masala, chili powder, cumin and bay leaf.
Cook, stirring, for 1 minute. Add tomato sauce, and cook for 2 minutes, stirring frequently. Stir in half-and-half and yogurt. Reduce heat to low, and simmer for 10 minutes, stirring frequently. Season with salt pepper. Remove from heat and set aside.
Heat 1 tablespoon oil in a large heavy skillet over medium heat. Cook chicken until lightly browned, about 10 minutes.
Reduce heat, and season with 1 teaspoon garam masala and cayenne. Stir in a few spoonfuls of sauce, and simmer until liquid has reduced, and chicken is no longer pink. Stir cooked chicken into sauce.
Mix together cornstarch and water, then stir into the sauce. Cook for 5 to 10 minutes, or until thickened.